MEET THE STAFF
The Pennsylvania Gunsmith School℠ staff has a rich gunsmithing history and has spanned the length of three generations from its founding to the present day. This demonstrates the staff's commitment to the school's continuity and longevity for now and into the future.
President and Director
Mr. G. Robert "Bob" Thacker, formally joined PGS in 1975. He is the third generation of Thackers to be involved, following in the footsteps of his great uncle and father. He grew up in the school and first became an assistant instructor in 1975 after attending and completing simultaneous studies at Robert Morris University and Pennsylvania Gunsmith School.
Over the years, Bob has held the positions of full-time Instructor, Assistant Director, Acting Director, Vice President and now President and Director.  He has unending enthusiasm and dedication to gunsmithing and for the students and graduates of PGS.
He works closely with the Program Advisory Committee, employers and individual Gunsmiths to ensure that the training program meets the occupational demands.  He has served has an adjunct instructor at the Central Training Academy, Dept. of Energy, located at Kirtland Air Force Base in Albuquerque, New Mexico.  Bob is an avid hunter and shooter, and trains in various workout disciplines.
Director of Instruction
Jamey Wojtaszek joined PGS in 2017 as Director of Instruction.  A 2002 graduate of PGS, he spent 11 years with Gander Mountain as a staff gunsmith, regional gunsmith manager and hardlines manager. Jamey then joined Pittsburgh Cerakote Company as their Director of Operations, and most recently was General Manager of six locations of National Armory, a Pittsburgh-based firearms retail chain.
He helped National Armory increase their profitability substantially by utilizing his retail experience to create a cohesive team and build the company's unique brand.  Jamey brings an understanding of current market trends to PGS, while holding a respect for the traditional aspect of gunsmithing.  He was instrumental in creating the new PGS tagline "Traditional – Modern – Innovative," which conveys this.
A "people person" with excellent interpersonal skills, Jamey brings limitless excitement and enthusiasm for his students, along with a sincere desire to look for ways to improve the delivery of our gunsmithing education.  Jamey is an avid hunter, and loves to spend time with his family.
Instructional Staff
The PGS instructional staff is a group of talented individuals who share a keen interest in gunsmithing, firearms, shooting and hunting.  Together they have over 70 years of gunsmithing experience.  All have a sincere desire to teach and mentor students in the craft that they love.
While a person can be a superb gunsmith but an ineffective teacher, PGS instructors have been trained to do both well.  They understand that students come from different backgrounds and life experiences, and have unique learning styles – whether visual, auditory or tactile.
By utilizing demonstrations (auditory), power point presentations, blueprints and instructional videos (visual), and hands-on "doing" activities (tactile), our staff aims to maximize each student's potential with all three teaching methods in our toolbox.
Instructor
Robert Brose, a 2011 PGS graduate, is our expert in bluing, polishing and refinishing techniques. Rob has 22 years of military service with both the Marines and Coast Guard. While in the Coast Guard he attended the Coast Guard Maritime Law Enforcement Academy, and did small arms maintenance and training of members at a unit level. After graduation from PGS, Rob worked as a staff gunsmith at an Ohio shooting range performing anything from basic gun cleaning and refurbishing to more advanced gunsmithing operations. He also taught basic firearms safety and marksmanship classes. In his spare time, Rob enjoys shooting, traveling, camping, barbequing and helping people.
Instructor
Zachary Durren is a 2007 PGS graduate. After high school graduation, Zach wanted to follow in his father's footsteps as a gunsmith and he worked alongside his dad, Steve Durren, an American Custom Gunmakers Guild member, for two years at the well known Adrian, Michigan gunshop, Johnson's. Zach decided he needed formal training and Johnson's allowed him to attend PGS and hold his job until he returned.  He returned to Johnson's for five more years, and then moved back to Pittsburgh to be with family. His specialty was in repair. Zachary cannot be stumped when it comes to finding a gun functioning problem. He is very creative when it comes to customization and innovation in firearm design and is a great fit for the subjects he instructs. Zachary is a devoted dad to his two children, and loves spending time with them and his family.
Instructor
Christopher Rush is a 2008 graduate of PGS. Before attending PGS, he was an HVAC technician, but his love of guns and a back condition brought Chris to our school and then a Gunsmithing career. After graduation from PGS, he was a staff Gunsmith at Dan Wesson Firearms, doing 1911 custom builds. Chris later worked for United Ammo Company working as a production supervisor in custom reloading and ballistics. Chris has a creative flair, loves working with wood and is an accomplished stockmaker. In his spare time, he enjoys target shooting, playing guitar and bass, and listening to Spanish, Cuban and gypsy guitar playing.
Instructor
James Smith, a 1991 graduate of PGS, did gunwork for over three years and formally joined our staff in 1994. He is our longest serving instructor. Prior to attending PGS, Jim worked in the construction industry as an ironworker, where he acquired mechanical abilities in a wide range of areas, including welding. His favorite part of Gunsmithing is metal work. He is a highly skilled machinist and adept at conveying these skills to students. In addition, when a machine breaks down (and they all do at some point), Jim is the diagnostician on staff, giving the students informal troubleshooting and diagnoses tips on these occasions. In Jim's spare time, he is an avid motorcyclist, both on and off-road. He also loves to hunt and shoot.
Instructor
Joshua Rowe is a 2009 graduate of PGS and has been an adjunct instructor since 2012. Josh currently heads the Business Practice program at PGS where he leverages over 20 years of firearms industry experience to give students an in-depth and realistic look at the realities of the business of gunsmithing, manufacturing, and firearms retail in the 21st century. Josh has been involved in the firearms industry since 1997 working as a part-time gun sales clerk while stationed in Germany with the US Air Force. In the proceeding years, Josh has managed several other retail gun stores, worked as a battalion armorer for the US Army, was a member of the US Embassy security staff in Baghdad, Iraq and is currently a partner and lead Gunsmith at Allegheny Arms & Gun Works in Pittsburgh.
Administrative Staff

PGS has an experienced administrative staff that can assist students in admissions procedures, financial aid,  and student services . These dedicated individuals work hard to serve the student body and are available during the class day and no appointments are necessary to talk with them.
Assistant Director and Financial Aid Officer

Carrie Wilson joined PGS in 2010 and is the school's Assistant Director, Financial Aid Administrator, the VA Certifying Official and Director of Institutional Quality. Prior to joining PGS, Carrie was a senior accreditation specialist for the Accrediting Commission of Career Schools and Colleges. She has a keen eye for detail and incredible drive and speed at performing anything necessary to help a student.  Carrie has immersed herself in the fabric of the school and is the catalyst of the administrative team. She has brought many new policies and procedures to PGS to streamline the "behind the scenes" operations. Carrie earned a bachelor's degree in Business Administration and has two children.  Her son, a college student at Washington and Jefferson College, has worked summers at PGS digitizing old student records. In her spare time, she enjoys running, reading and spending time with her family.
Admissions
Robin Mahon joined PGS in 2006 and has held various staff positions. Currently she is the Director of Admissions and is one of the first staff members that people meet. She has an outgoing personality and a passion to help people find the right career. She is responsible for providing information about PGS to callers and visitors, processing applications, and communicating with and scheduling accepted individuals.Robin earned a Journalism degree from Ohio University, completed coursework towards a teaching certificate in Secondary English at Cleveland State University, and has worked in public relations and as a high school college access counselor. Her hometown is Cleveland, and she is an avid Cleveland sports fan. She loves to spend time with family, travel and hike. She climbed Scotland's highest peak, Ben Nevis, a few years ago and hopes to conquer it again in the future.
Career Services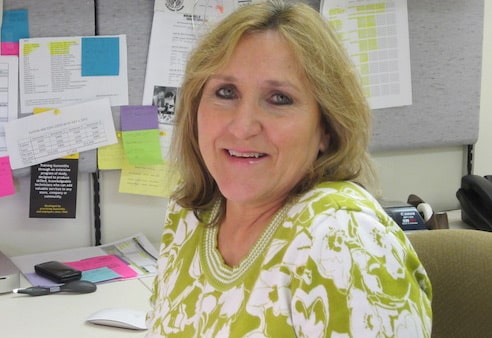 Maria Bergman,  Director of Career and Employer Services, came to PGS in 2002 after many years working in various business environments. Her past employment provided valuable experience in human resources and other administrative duties. As the link between graduating students and employers, Maria advises students on resume and cover letter preparation, and job search and interviewing techniques.  Over the years she has developed many contacts with firearm industry employers and helps to facilitate interviews at PGS, on Skype and at employment sites.  She annually attends SHOT Show in Las Vegas to network with current employers and gain new job leads.  Maria earned an associates degree in special education at CCAC and completed additional coursework at California University in Pennsylvania.  In her spare time, Maria loves to cook Italian food, shoot, and play with her german shepherd!
Procurement Specialist and  Administrative Support 
Constance Travis is the PGS Purchasing Manager and Administrative Support Specialist and joined the school in February 2016. She has held previous positions in purchasing, accounts payable and payroll, and keeps PGS inventories at a healthy level so that students have the items they need. She maintains over 600 items in the school store and is always on the lookout for bargains to pass on to students. Connie is also responsible for maintaining student accounts, attendance and PGS printed materials, as well as performing many other jobs that make things run smoothly in the background. The above picture shows her receiving shooting tips from our Director of Instruction at a staff in-service day (shooting instruction is not part of the regular student curriculum). Connie's favorite holiday is Halloween and she enjoys watching science fiction and comics-based television shows and movies.
Program Advisory Committee
The PGS Program Advisory Committee meets twice a year and its main purpose is to advise the school on current gunsmithing practices so that the proprietary curriculum meets or exceeds the demands of employers. In today's competitive marketplace, it is crucial that PGS graduates are the best-trained gunsmiths in the nation and this committee is charged to ensure that this vision is maintained. The members are both practicing gunsmiths and those individuals that are directly responsible for hiring gunsmiths. Therefore, students can rest assured that the PGS training program will assist them in their career goals.
The current committee members are:
Dean Batchelder, Gunsmithing Technical Support, Brownell's, Inc., Montezuma, IA
Tony Veronesi, Owner, Veronesi Gunsmithing, Seminole, PA
Roy Christensen, Manager of Gunsmiths, Gander Outdoors, Kenosha, WI
Matt Shaulis, Manager, E.R. Shaw Barrel Company, Bridgeville, PA
Bob Fannin, Owner, The Gun Doctor, Springfield, OH
David Gregor, Gunsmith, U.S. Trinity Customs, North Lake, TX
John Welburn Ed. D., Adjunct Faculty, Duquesne University, Pittsburgh, PA
Michael J. Pater, Esq., Attorney, Butler, PA
Chris Mihalic, Owner, Pittsburgh Cerakote, Pittsburgh, PA
Guest Speakers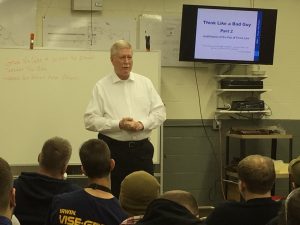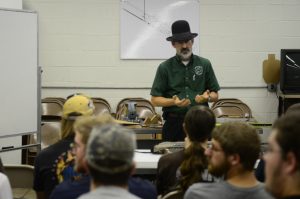 PGS frequently has guest speakers that will both lecture and demonstrate firearms and associated tooling. On occasion, these lectures and demonstrations are combined with on-site gunsmith job interviews. Many graduates are eager to share their experiences seeking employment or setting up an independent gunsmithing shop.