Instructional Staff
Led by PGS Director of Instruction Jamey Wojtaszek is a group of talented individuals who share a keen interest in Gunsmithing, firearms, shooting and hunting. Together they have over 130 years of Gunsmithing and engraving experience. All have a sincere desire to teach and mentor students in the craft that they love.
While a person can be a superb Gunsmith but an ineffective teacher, PGS instructors have been trained to do both well. They understand that students come from different backgrounds and life experiences, and have unique learning styles – whether visual, auditory or tactile.
By utilizing demonstrations (auditory), PowerPoint presentations, blueprints and instructional videos (visual), and hands-on "doing" activities (tactile), our staff aims to maximize each student's potential with all three teaching methods in our toolbox.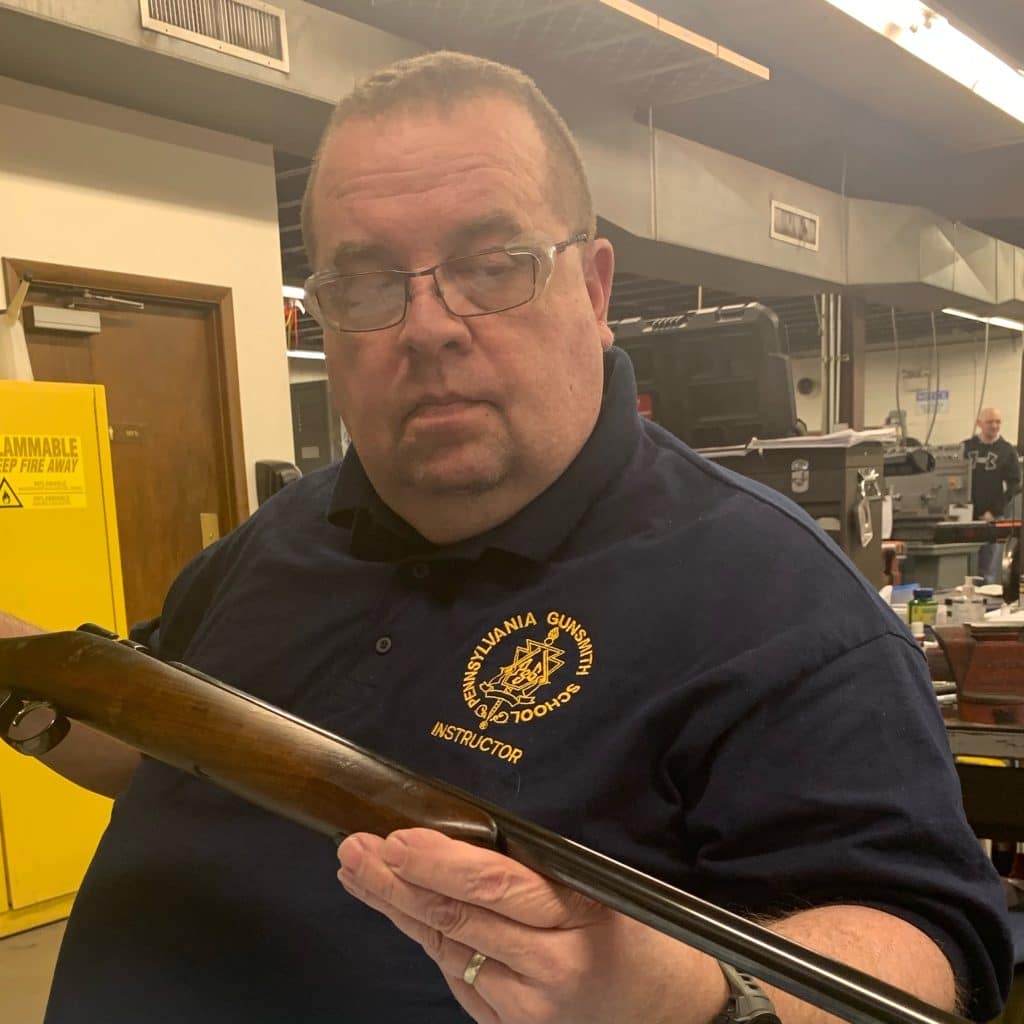 Robert Brose
Instructor
Robert Brose, a 2011 PGS graduate, is our expert in bluing, polishing and refinishing techniques. Rob has 22 years of military service with both the Marines and Coast Guard. While in the Coast Guard he attended the Coast Guard Maritime Law Enforcement Academy, and did small arms maintenance and training of members at a unit level. After graduation from PGS, Rob worked as a staff gunsmith at an Ohio shooting range performing anything from basic gun cleaning and refurbishing to more advanced gunsmithing operations. He also taught basic firearms safety and marksmanship classes. In his spare time, Rob enjoys shooting, traveling, camping, barbequing and helping people.
Zachary Durren
Instructor
Zachary Durren is a 2007 PGS graduate. After high school graduation, Zach wanted to follow in his father's footsteps as a gunsmith and he worked alongside his dad, Steve Durren, an American Custom Gunmakers Guild member, for two years at the well known Adrian, Michigan gunshop, Johnson's. Zach decided he needed formal training and Johnson's allowed him to attend PGS and hold his job until he returned. He returned to Johnson's for five more years, and then moved back to Pittsburgh to be with family. His specialty was in repair. Zachary cannot be stumped when it comes to finding a gun functioning problem. He is very creative when it comes to customization and innovation in firearm design and is a great fit for the subjects he instructs. Zachary is a devoted dad to his two children, and loves spending time with them and his family.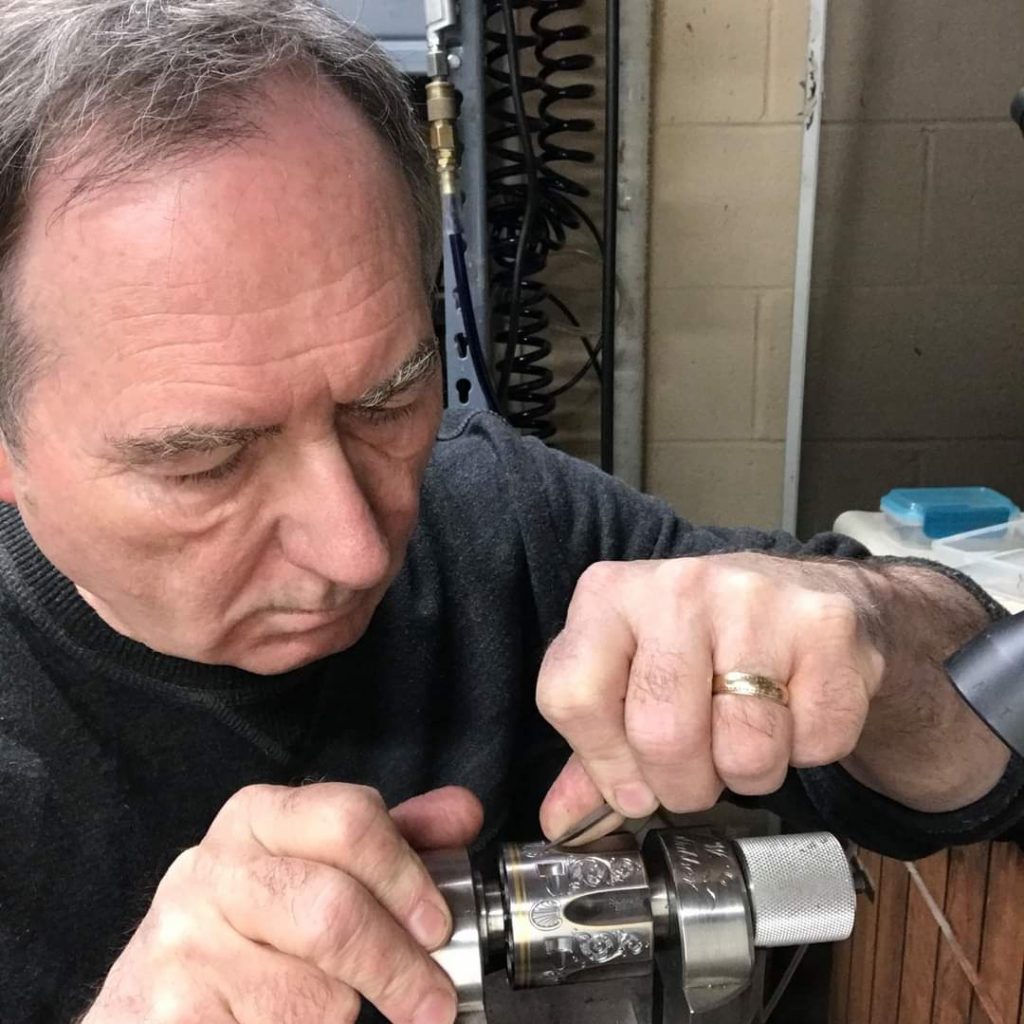 Brian Powley
Instructor
Brian Powley came to PGS in 2021 as a part-time instructor specializing engraving. He is a full-time professional engraving artist and nationally known instructor. He stated engraving in 1980 and entered the the GRS Training Center in Emporia, Kansas and has received training from the best engravers in the world and has certifications from 2005, 2006, 2007,2008,2010, 2017 and 2019. Some of his notable instructors were: Glacoma Fausti, Italy; Ken and Marcus Hunt, United Kingdom, Phillippe Griffnee, Belgium, Alaine Lovenberg, Belgium; Mike Dubber, Indiana. In 1999, Brian achieved "Certified Master Engraver" from the Firearms Engravers Guild of America (FEGA). Notably, he has become a Colt Master Engraver. Some of his notable commissions were for Ted Nugent, Gary Player, Coach Ara Parseghian, Coach Bill Cowher, Mario Lemieux, Bill Mazeroski and Presidents Bush and Trump.
Brooks Norton
Instructor
Brooks came to PGS in 2021 after having served in the USMC where he was the unit expert for troubleshooting and repair in preparation for combat including rifles, machine guns, missile systems, optics, pistol maintenance and marksmanship training. Brooks is a PGS graduate and has worked for DTV Tactical Innovations serving and building NFA weapons. He is also very skilled in the application of alternate finishes including well known Cerakote®.
James Smith
Instructor
James Smith, a 1991 graduate of PGS, did gunwork for over three years and formally joined our staff in 1994. He is our longest serving instructor. Prior to attending PGS, Jim worked in the construction industry as an ironworker, where he acquired mechanical abilities in a wide range of areas, including welding. His favorite part of Gunsmithing is metal work. He is a highly skilled machinist and adept at conveying these skills to students. In addition, when a machine breaks down (and they all do at some point), Jim is the diagnostician on staff, giving the students informal troubleshooting and diagnoses tips on these occasions. In Jim's spare time, he is an avid motorcyclist, both on and off-road. He also loves to hunt and shoot.